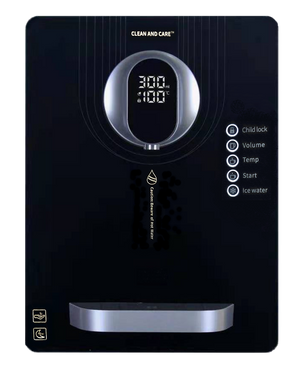 Clean And Care
USave Instant Water Dispenser + 4 Filtration Stages Undersink Filtration System
Sale price Price $999.00 Regular price $1,298.00 Unit price / per
USave Instant Water Dispenser + 4 Filtration Stages Undersink Filtration System

 
(2 Years Filter Set)
Product Features
Model : US-610
Instant heating system.
7 temperatures option. Cold, room, warm and hot temperatures.
160ml, 220ml, 300ml, 500ml, 800ml, 5 water volume options.
Power Rating (W/Hour) : 2200W (Hot) / 60W (Cool).
Energy-friendly standby mode.
Automatic sleep mode.
User friendly operate function.
Safety lock function.
Direct piping from water source.
Can be mounted on the wall/ solid surface*.
Benefits
Save Time. Save Electricity. Save Gas.
No more boiling water.
No more waiting time.
Enhanced drinking water quality.
Clean and fresh drinking water.
Removes impurities, contaminants and chemicals in the water. 
No more kettle needed.
Instant heating - warm or hot water in 3 seconds.
Improve health condition.
No more intake rusty contain might deposit from your internal service pipe.
Filtration System Specification
Under Sink Filtration System with 4 filtration stages to ensure you get clean and fresh drinking water.
Sediment filter - to remove sediments like rust, sand, dust, silt, heavy metals and other large particles in water.
Activated Carbon filter - to remove chlorine, chemicals, contaminants, gases, odor, pesticides and other chemical in water


UF Membrane filter - to remove hazardous substances like bacteria, and viruses while keeping essential minerals in the water. Water flowing through the UF membrane filter, contaminants are blocked on the outer membrane surface, leaving clean drinkable purified water. 

Post Carbon filter - Preventing propagation of bacteria. Eliminating unpleasant smell

. Designed for enhance water taste and reduce chloride.
USave Instant Water Dispenser With 4 Filtration Stages Undersink Filtration System

WHY YOU NEED A FILTRATION SYSTEM

Corroded service water pipes and fittings
Stagnant water in service pipes
To remove contaminants during transmission
Heavy draw off from a water main resulting in resuspension of mineral sediments
Singapore Drinking Water Quality Dec 2020.pdf (pub.gov.sg)
Free Delivery and Installation
Delivery - Our team will contact with you within 24 hours (working day) for schedule arrangement. Kindly be patient for us to contact with you.
Installation - Required 13 Amp power point within 1.0 meter and water point within 3 - 5 meters. Water pressure within 0.1MPa - 0.4MPa.
Warranty - 1 Year onsite warranty.